InFLAMES and CompLifeSci present good practices – Open Data and Methods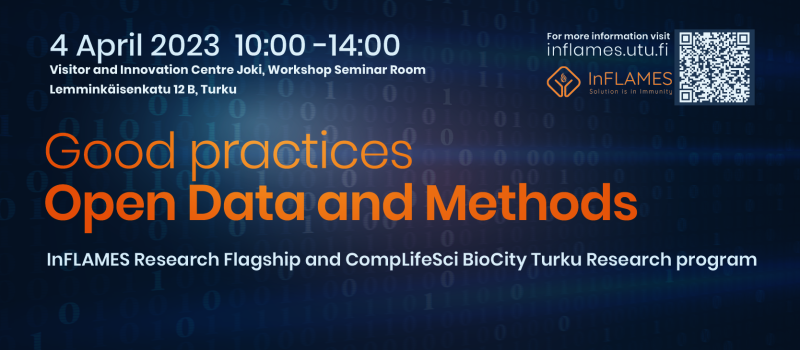 You are warmly welcome to join a seminar jointly organised by the InFLAMES Flagship and Turku BioCity Research Programme CompLifeSci!
The seminar is held in Worshop seminar room at Visitor and Innovation Centre Joki, Lemminkäisenkatu 12 B, Turku, Finland. Lunch will be served at noon during the seminar. The event is open to all interested parties.
Sign up here: https://konsta.utu.fi/Default.aspx?tabid=88&tap=15174 (Closes on March 29)
In this seminar we will go through practical aspects of open data management and provide concrete insights and solutions to data handling. Hosts of the seminar are Visiting Professor Tero Aittokallio, University of Turku and Director of CompLifeSci Associate Professor Leo Lahti, Department of Computing, University of Turku.
Programme
10:00-10:05        Opening words – Overview, Tero Aittokallio
10:05-10:30
Open research data and methods
Associate Professor Leo Lahti, Department of Computing, University of Turku
10:30-10:55
FAIR in practice – Research data management challenges and opportunities
Research Data Management Specialist Hanna Koivula, CSC – IT Center for Science, Espoo, Finland
10:55-11:40
Over a decade of open crowd-sourced modelling tasks – insight into DREAM Challenges
Researcher Teemu Daniel Laajala (PhD), Department of Mathematics and Statistics, University of Turku / Department of Pharmacology, University of Colorado, USA
11:40-12:15         Lunch
12:15-12:45
Improving the academic experience through open data, software, and publications practices
Associate Professor Guillaume Jacquemet, Faculty of Science and Engineering, Åbo Akademi University
12:45-13:15
Confessions of a data parasite
University Researcher Antti Karkman, Department of Microbiology, University of Helsinki / Visiting Researcher, University of Turku
13:15-13:45
Panel Discussion: What to do with data? How to create an open science community?
Moderator: Leo Lahti
Panel: All speakers
13:45-14:00         Discussion, networking and drinks
After the seminar, it is possbile to stay in the seminar room and follow online Wilfried Ellmeier's Immunology Seminar from Institute of Immunology, Medical University of Vienna.