InFLAMES Corporate Corner – Diagnostic technologies and applications in immunology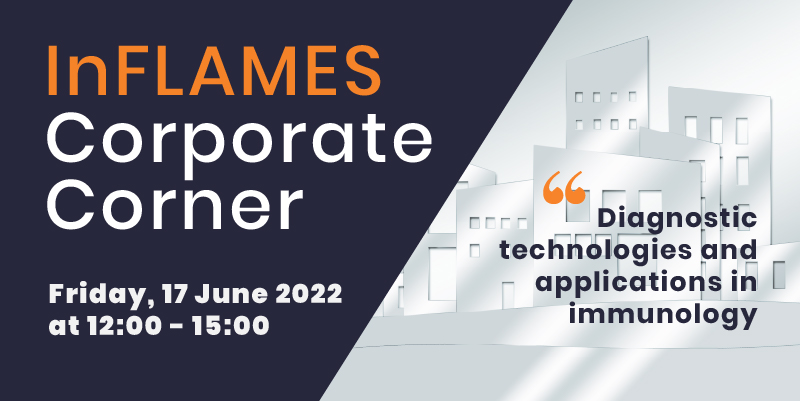 Welcome to the InFLAMES Research Flagship's Corporate Corner titled Diagnostic technologies and applications in immunology.
The event will be held on 17th of June, 2022 at 12.00-3.00pm in Cave theatre, Visitor and Innovation Centre Joki, Lemminkäisenkatu 12B, Turku. Lunch is served at 11:45 and there is time for networking after the presentations.
In the event you will hear the latest diagnostics technologies in immunology as well as various insights on how to promote industry-academy collaboration. We have a great list of speakers from the following: InFLAMES, PerkinElmer, Inc., Kaivogen Oy – part of Uniogen and ArcDia International.
Please sign up HERE by June 13th, 2022. (Registaration for the on-site event in Cave theatre is closed.  If you are still interested in participating on site please email kaisa.hakkila@utu.fi.)

You may also participate online. Link will be sent to registered participants one day before the event.
Link to join an online event: https://utu.zoom.us/j/68197975999
Hosts:
Professor Urpo Lamminmäki, Department of Life Technologies, Univerisity of Turku
InFLAMES Group Leader Janne Leivo, Department of Life Technologies, Univerisity of Turku
Programme
Cave theatre, Visitor and Innovation Centre Joki, Lemminkäisenkatu 12b, Turku / Online
11:45-
Lunch which can be enjoyed during presentations
12:10-12:15
Opening words
Professor of Practice Timo Veromaa, University of Turku
12:15-12:30
Enabling technologies for in vitro diagnostics
Professor Urpo Lamminmäki, Department of Life Technologies, University of Turku
12:30- 12:45
Scaling Strategic Focus Areas
Scientific Leader Mikko Sairanen, PhD
PerkinElmer Global R&D
12:45-13:00
Novel biomarkers and assay concepts for early disease diagnostics
InFLAMES Group Leader Janne Leivo, Department of Life Technologies, University of Turku
13:00-13:15
Expanding business with academic collaboration
Business Development Manager Jarkko Karvinen, PhD
Uniogen Ltd
13:15-13:30
Turku PET Centre – Radiopharmaceuticals for PET imaging disease and mechanisms
Assistant Professor Xiang-Guo Li, Turku PET Centre, University of Turku
13:30-13.45
Tyks Laboratories – Customized diagnostics on the required scale
Chief Physician, Director Antti Hakanen, TYKS Laboratories
13:45-14:00
Experiences and views on industry-academy collaborations related to infection diagnostics
R&D and Marketing Director Janne Koskinen, PhD
ArcDia International Oy Ltdn
14:00-14:35
Panel Discussion
How to improve industry-academy collaboration
Moderator: Janne Leivo, University of Turku
Panelists:
Chief Physician, Director Antti Hakanen, Tyks Laboratories
Business Development Manager Jarkko Karvinen, Uniogen Ltd
Scientific Leader Mikko Sairanen, PerkinElmer Global R&D
Professor of Practice Timo Veromaa, University of Turku
14:35-15:00
Networking –  Drinks